Interview by: Felix Erkinheimo

Activities at FIVR are ignited by the board members. In the following months, we will introduce the members of the FIVR board in here in a series of FIVR blogs. In this post you will hear answers from two of them. We asked who they are and how they see the current state and the future of the XR field among other things.

Antti Kuusisto
A.k.a. Wusakko
What is your background in the XR field?
I'm a software designer and developer who specializes in immersive software like XR and games. I look at mixed reality from a very technical standpoint due to my coding experience. However, I'm also interested in the ontological and ethical perspectives of XR. On LinkedIn, you can find me as a "Todellisuuden kehittäjä" (reality developer). This refers to my idea of developing not only computer-generated realities but also ideas and communities based on digital mediums.

What intrigues you the most about XR technology?
I have always been interested in human-computer interfaces. I believe that the future of interfaces will not be in 2D, but in 3 dimensions, and that every UX designer should focus on this shift. Thus, going into XR has been the most logical decision for me.

When did you start in FIVR and what is your role on the board?
I have been active in FIVR for multiple years and a member of the board for a year. I see that no one knows what to expect of the XR fields and what all the possibilities are. For this reason, it is important for different players in the industry to communicate and work together – we don't want to invent the wheel more than once. I hope to nurture these communications by working together with various educational institutions and companies.

What do you see for XR in Finland within 5-10 years?
I'm confident about the future of the Finnish XR. We are already at the forefront in Europe. We have one of the largest XR communities in Europe, city-specific hubs, good XR teaching in schools and XR companies for hardware, software and content. Everything the ecosystem needs? I think the future depends on how much we can work together to create our own metaverse(s).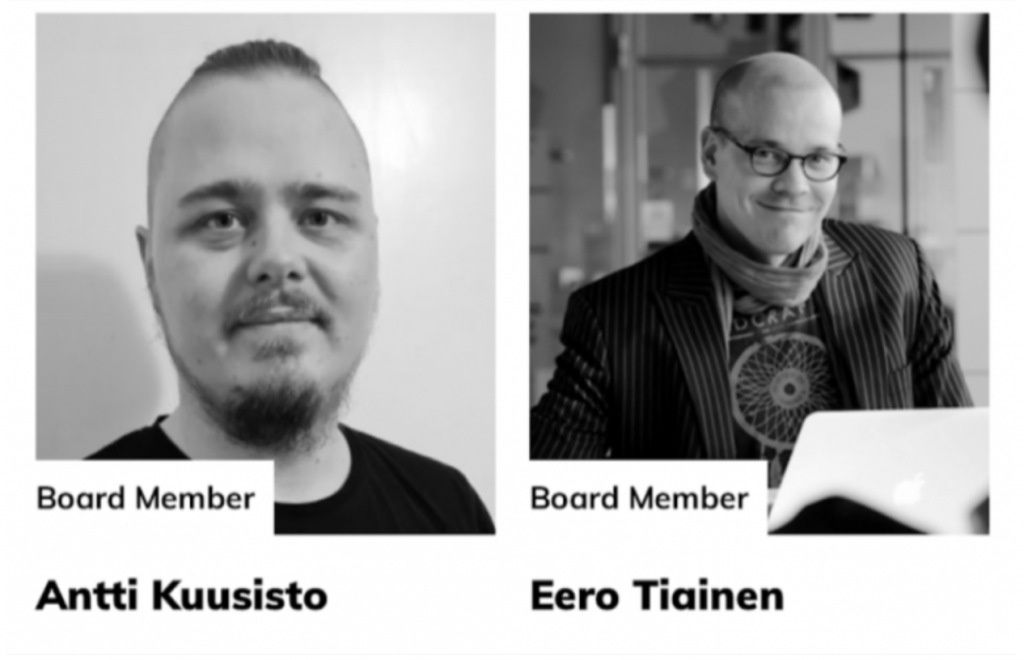 Eero Tiainen

What is your background in the XR field?
I am a VR director with a passion for creating transformative experiences with VR. I've been creating VR experiences, VR documentaries and VR short films in recent years. Currently, I am working on a cinematic multiplayer VR performance "Love Simulation EVE" coming to the Espoo City Theatre. I have years of experience in different positions at Aalto University, for example organizing VR Hub and designing VR haptics. Last year I was part of founding a new XR Art Festival called Embrace.

What intrigues you the most about XR technology?
I see VR, AR, and MR can produce more impactful experiences than any other mediums. Earlier I worked in films and acted in theatre productions, but when I tried VR for the first time I realized what I really wanted to achieve creatively: I want to build cinematic worlds that the player can enter and live for a moment. I see myself first and foremost as a virtual world designer, all the other design such as game and narrative design serves world design. I am interested in not only being able to immerse the viewer into the fictional world but also allowing them to meet and interact with the characters that are populating that world. Embodied interaction with a fictional character is something that has unique potential for XR. Of course, this is not an easy task to achieve!

When did you start in FIVR and what is your role on the board?
I started at the end of 2019. I've been taking a role in communications – promoting FIVR events on our social media channels. From the perspective of narrative experiences and more artsy games, the biggest challenge is the distribution side. How to offer the XR experiences to larger audiences? My hope is that FIVR could support building the distribution ecosystems for XR entertainment in Finland. I think functional distribution is a major way of attracting investor funding as well.
What do you see for XR in Finland within 5-10 years?
In the large picture, it looks pretty promising. Among the entertainment forms, VR is the fastest-growing category at the moment. As someone working in the culture and entertainment side of the XR field, I hope to see more quality content related to the Nordic and Finnish culture and inheritance. For this, I would like to see more established cultural organizations such as museums and theatres taking a role in the distribution. I think there is much innovation to be done with location-based XR experiences as well, now that we are getting over the pandemia. I assume we will see some global XR arcade chains such as Void launching to Finland within ten years.
There you go, that was our first introductory blog, representing Antti and Eero! Stay tuned for the rest of the board members for more insightful ideas and insights into the XR field.

To get notified on upcoming blogs and news from FIVR, drop us a follow on social media: